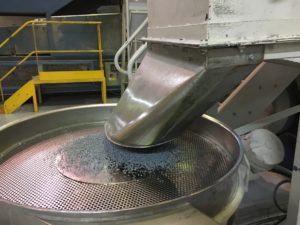 Reliable customers delivery times and reduced stress : DELMIA Ortems' planning solution appeals to MCPP France
About MCPP
MCPP France is a subsidiary of the group Mitsubishi Chemical. The company has established itself as a market leader in the manufacture of polyvinyl chloride (PVC) and thermoplastic elastomer (TPE) products in advanced sectors such as automotive, building industry, cable, medical, packaging and consumer goods.
Challenge
MCPP France was looking for a planning solution to set up a single interdepartmental reference system and improve productivity. The solution had to be connected with their ERP, SAP.
Problematic issues
– Time loss in developing the next week's production planning resulting in a lack of responsiveness in production deadlines and customer delivery delays.
– Risk of loss of control through manual management of the planning.  Limited visibility of the planning of the 2 business lines (TPE and PVC).
– Absence of a single interdepartmental repository.
– Impossibility of integrating a new order into the planning without disrupting everything which has an impact on customer satisfaction.
– Unable to reliably anticipate seasonality and workload.
– Tedious management of raw materials because there is no interface with SAP, which manages stocks.
Customer needs
– Simple, collaborative solution, improvement of interdepartmental relationships.
– Ability to make quick decisions (less than 10 minutes) with a reliable simulation solution.
– Ability to group orders and manage production campaigns more easily.
– Better visibility of the production plan at finite capacity.
– Reliable delivery date.
– Time savings because there is less telephone communication between departments and in particular regarding the Sales assistants department.
– Durability and robustness of interfaces with SAP.
Solution
The company chose Dassault Systèmes' DELMIA Ortems production scheduling and planning solution.
Benefits
The implementation of the production scheduling and planning solution has significantly improved collaboration between the workshop manager, planning managers and the purchasing, procurement, production, IT and sales teams. Digital planning has replaced wall planning: the time saving is estimated at more than 25%, or 2 to 3 hours per day for each planner. Delivery times are respected to ensure maximum customer satisfaction with a global environment that generates much less stress at work within the company.
Reliability of customer lead times.
Better productivity and reduction of cleaning phases between 2 productions: DELMIA Ortems optimally schedules orders to limit machine cleaning times between two productions.
Anticipation of raw material shortages thanks to the certified interface with SAP.
Improving interdepartmental collaboration and exchanges.
Next Step
MCPP wishes to set up a reporting tool to better measure the gains linked to factory management, reduce its stocks and to deepen the other ORTEMS functionalities not used to date.