THE 3DEXPERIENCE® PLATFORM ON CLOUD
A unified, collaborative platform, 3DEXPERIENCE® enhances interaction between employees in a single ecosystem and improves the experience of users of historic solutions in the Dassault Systèmes portfolio.
With this business platform, Dassault Systèmes aims to provide software solutions that meet the various needs of your company's departments. All of the company's functions are brought together around a single, easy-to-use interface that makes it possible to smoothly exchange large amounts of data from various corporate information systems (PLM, CAO, 3D, ERP, MES, etc.) in real-time. 
Beyond a collaborative platform, Dassault Systèmes aims to provide a comprehensive experiential environment that accompanies the product throughout its lifecycle. Dassault Systèmes is well aware that it is no longer enough to sell just a product. Only by connecting people, ideas and data can a value chain be created that makes it possible to market unique products with great added value and provide an outstanding customer experience.
The 3DEXPERIENCE® platform is a global solution offering an approach that is:
Collaborative
Interactive
Multi-tool
Multi-expertise
Multi-site
Project management focused.
This fully meets the increasing need of companies for hyper-connectivity and makes it possible to build innovation around people.
Adopting the 3DEXPERIENCE® platform means benefiting from the best tools in the Dassault Systèmes portfolio, thanks to the integration of essential solutions, such as CATIA, SIMULIA, ENOVIA and DELMIA, which support you in your day-to-day work via a single interface.
3DEXPERIENCE® is of course available on-premises and, in order to give you more flexibility and facilitate deployment, a cloud version has also been developed.
3DEXPERIENCE® on the cloud
Choosing 3DEXPERIENCE® on the cloud provides all of its benefits while maximizing your flexibility and optimizing costs.
Reasons to choose 3DEXPERIENCE® on the cloud:
SIMPLICITY
    Rapid deployment for immediate use
    No installation required; no need for an IT administrator and resources
    Automatic updates
REDUCED COST
    No investment and maintenance for storage (server) and backup equipment
    Reduction and optimization of running and operating costs
AVAILABILITY
    Service access and availability (24/7)
    Mobile, without interruption, via fixed workstations or compatible mobile devices
SAFETY
    The latest regulatory standards in terms of cloud security applied by Dassault Systèmes
    No data loss
    Encrypted exchanges
OUR SOLUTIONS
KEONYS and CENIT support customers in the implementation of the 3DEXPERIENCE® solution on the Cloud. Thanks to this experience, we have developed a service offer in line with "your Cloud maturity": from discovery to platform configuration and control of key processes.
Contact us to find out more!
Trial Offers
Go on the Cloud as do the largest industrial companies
Because of their structure, start-ups have specific needs. We take these needs into account in order to propose an access to the 3DEXPERIENCE® platform as a 3-year offer at 474 euros per year including: Access to all the entry-level roles of CATIA, SIMULIA, ENOVIA and DELMIA solutions as well as special discount on advanced roles. This offer does not require any maintenance costs or IT investment upfront.
Terms and conditions of the offer*:
 On the first year of subscription, you will access to the collaborative business innovator platform and all entry-level cloud roles** with a 90% discount for any advanced role for €474.
On the second year of subscription, the €474 access enables you to use the collaborative business innovator platform and a 70% discount on all cloud roles. 
 On the third year, you will have acces to the collaborative business innovator platform as well as a 50% discount on all cloud roles. 
*Subject to eligibility criteria.
**Subject to change: MES-OC, NBA-OC, DRD-OC, SRD-OC, XPP-OC, CSV-OC, WXD-OC, XFO-OC, XCD-OC +All the companionsrelated to the previous roles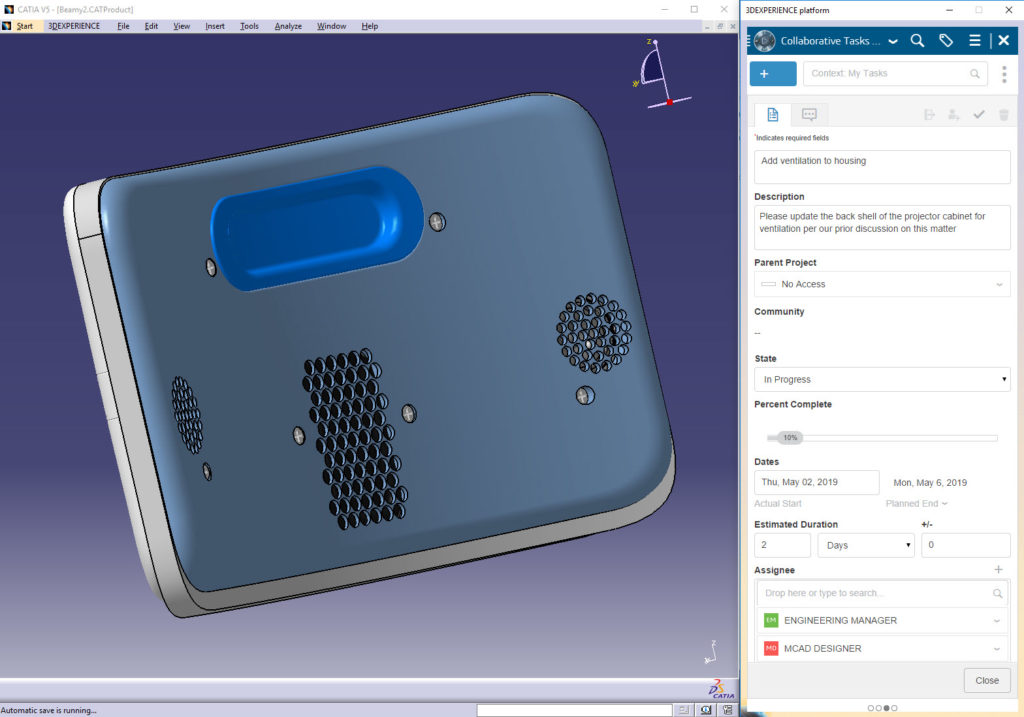 Discover a new way to work collaboratively and in real time
The 3DEXPERIENCE® platform increases your productivity and saves time through real-time collaboration and data management. Working on the cloud allows you to free yourself from geographical and time constraints. Evolve your work environment into a unified tool with different tools (CAD, Simulation, Manufacturing, Systems etc…).
Our 3DEXPERIENCE® cloud-based solution for start-ups gives you access to all roles for the first three months to choose the right ones for you while benefiting from a discount. You will discover a new way of designing and producing by visualizing your work virtually before actually doing it. Simulate and optimize the real and virtual while having your projects stored securely.
Deployment offers
Prepare your digital transformation on cloud with 3DEXPERIENCE® 
How about increasing your agility with the cloud? This is what we are offering you through our new scalable service offer, developed around Dassault Systèmes' 3DEXPERIENCE® platform. The objective is simple: to enable you to carry out your projects successfully with a simple and cost-effective solution which offers a standardized interface but also the transfer of our best practices in terms of rapid deployment of this platform.
Enter the cloud era step by step
Today, cloud sourcing is becoming a reality in more and more B to B applications (CRM, HR, Office…) and is also becoming more and more popular in the PLM sector. It is a model that allows a greater flexibility and reduces often high infrastructure costs.
In order to support you step by step in the adoption of the cloud, we have developed the READY 4 CLOUD service offer.
Staked out according to your project maturity, this offer supports you gradually in the implementation and deployment of 3DEXPERIENCE® on the cloud.
Are you considering shifting to the cloud but still wondering what it can do for you ?
ONBOARD ! This basic foundation of our READY 4 CLOUD offer, gives you a complete overview of the fundamentals of 3DEXPERIENCE® on the cloud.
You are convinced by the benefits that the cloud can offer you but you don't really know from where to start ?
DISCOVER ! The first base "DISCOVERING" allows you to discover in depth how the platform works.
Are you ready to start working with the cloud ?
DEMONSTRATE & DEPLOY ! Through the last two bases, validate, accelerate and optimize the deployment of a selection of business processes. We transfer our best practices to you to implement and manage your PLM Cloud process within your company. From CAD to simulation, from design to project management… we give you the keys to ensure rapid deployment of the platform.
KEONYS has been supporting companies of all sizes to implement the 3DEXPERIENCE® solution on the Cloud for several years. We have deployed some of Dassault Systèmes' most significant Cloud projects.
If you also want to get into the cloud, contact us!
Do you want to save time to focus on the important things? Start your digital transformation with 3DEXPERIENCE® !
How to enable an appropriate and effective PLM implementation for SMEs and small TWAs ?
Are you looking for a solution to support your digital transformation? We developed it for you ! This pre-packaged offer prepares you for the challenges of the industrial revolution. Based on Dassault Systèmes' 3DEXPERIENCE®, it allows you to optimize the implementation of the platform. It includes a pre-configured base for rapid deployment, as well as a customized part to specifically meet your expectations.
Engage on the digital shift, while being well supported
Because it is not always easy for a medium-sized company to start its digital transformation and meet the challenges of the industrial revolution, we wanted to set up an offer, designed by our experts and adapted to your needs to support you in your approach.
Based on Dassault Systèmes' 3DEXPERIENCE® on premise platform, our READY TO GROW offer offers you a simple and pre-configured introduction to a scalable PLM solution, which allows you to customize your system at any time. Specially designed for medium-sized companies, this pre-packaged offer is the ideal solution to obtain fast gains in a short period of time and to be able to measure the benefits after only a few months.
Boost your development potential
Through our READY TO GROW offer, you keep control on the deployment process at all times, as it is based on a standardized and configurable approach rather than customized programming. Indeed, in order to facilitate access to the 3DEXPERIENCE® on premise platform, we offer you a packaged offer that is approximately 80% preconfigured and 20% individually configurable.
This project-based approach reduces effort and implementation time by up to 50% compared to traditional implementation projects focused on specific customizations. The high degree of standardisation contributes in particular to significantly reducing maintenance costs and minimising operating costs.
Adopting our READY TO GROW offer means choosing to be well prepared for the challenges of the future. Thanks to the integrated "Configuration engine", modifications can be easily made and the system can also be extended at any time.
The perfect combination between customization and standardization
80% pre-configuration
Important PLM/PDM topics are already preconfigured within the platform via our READY TO GROW offer. This ensures a high degree of maturity of the solution with a minimum of effort and minimizes the efforts of each project from the beginning of the implementation. The scope of the project focuses on traditional PLM themes such as coherent product structures, collaboration and continuous and highly available development processes.
20% customization
To best adapt to your environment and your business challenges, 20% will be adapted specifically to your company. The configuration engine provided allows you to use an agile method with short feedback loops. A practical configuration of the system is achieved by a quick implementation of user feedback. The partial results are quickly available and can be evaluated and subsequent changes can be made at any time.