Exploiting the full potential of your PLM tools & the 3DEXPERIENCE® platform, including the CATIA, DELMIA, SIMULIA, ENOVIA software range, is part of our daily mission. 
We how complex can be your problems. This is why KEONYS offers you a complete, flexible support offer that meet your needs and guarantees you a fast and efficient solution to your problems. 
From a standard and non-binding service to a personalized service, KEONYS offers you various support services, including hotline services, as well as technical assistance, on site or on remote, to help you solve all your software installation, administration or use difficulties. 
Discover all KEONYS support offers: SINGLE CONTRACT, GENERAL AGREEMENT, SERVICE CONTRACT. KEONYS also offers the additional 360° ANALYSIS option and the cenitFLEX+ offer.
KEONYS also has a new ticketing tool, which allows to open tickets directly online, to follow their evolution in real time and to obtain a view on all tickets already passed. This new tool is accessible here. 
Offers & options
A customized support contract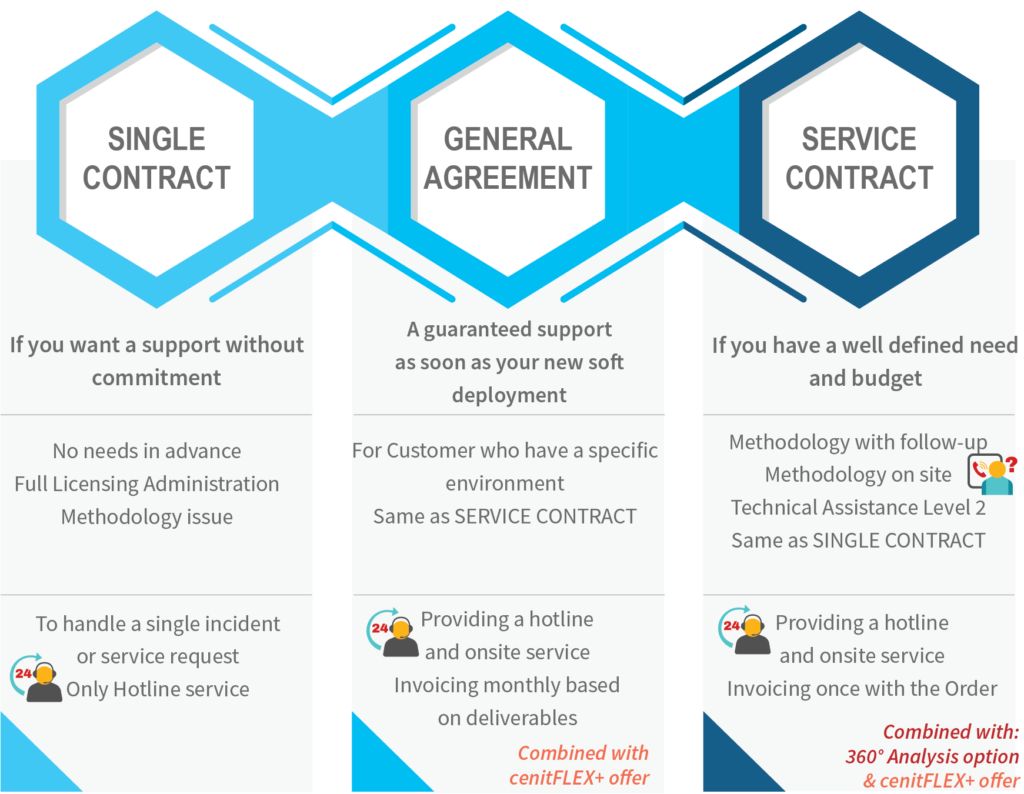 SINGLE CONTRACT 
This offer is intended for all customers who do not have a support contract and who do not wish to have one.
For a specific request, we will create a single contract and limited in time, allowing you to find a solution quickly and without commitment.  
This offer gives you access to the hotline service only. 
GENERAL AGREEMENT
If you want to control your expenses and be billed monthly consumption, this offer will meet your needs. 
For all customers with a specific work environment, we offer a framework contract giving you access to a hotline hour quota and Technical Assistance hours. 
Thanks to this offer, we will be able to answer all your problems of methodologies (for which we also offer a follow-up), methodologies on site and a Technical Assistance of Level 2. 
This offer can be combined with the cenitFLEX+ option. 
SERVICE CONTRACT
This offer allows you to subscribe to a basic support contract, including an Hotline hour quota and Technical Assistance hours. 
This contract is invoiced to you with the order. 
Thanks to this offer, we will be able to answer all your problems of methodologies (for which we also offer a follow-up), methodologies on site and a Technical Assistance of Level 2. 
This offer can be coupled with the following options: 360° Analysis and cenitFLEX+. 
360° Analysis option
For all KEONYS support contract's customers, we offer you the possibility of being assisted by a "technical referent", who will be your privileged contact throughout the duration of your contract. 
Your referent will begin his support with an audit phase of one day in your premises, with the aim of: 
Understanding your use of Dassault Systèmes products 
Identify any needs expressed by your employees
At the end of this audit, your referent will deliver you: 
A summary of your current working methods
Improvement proposals (training, coaching, version updates, new methodologies, etc.)
Suggested deployment plan
A quarterly review can also be set up to monitor your actions
The benefits of such support are numerous: 
Improvement levers for your productivity, quality and design cycle 

Recommendation of a solution adapted to your needs 
Optimization of existing methodologies
Suggestion of new working methods

A privileged relationship between you, KEONYS and your technical referent, but also with the editor Dassault Systèmes.
A personalized technical follow-up of your site
cenitFLEX+ offer
This offer, deployed by CENIT, is an interface that enables standardized management and use of the various CAD applications and their related environments. 
This software will allow you to facilitate the management of your system infrastructures, through a clear and easy to use user interface. 
Environments are pre-configured and standardized to ensure maximum compliance with the requirements of your environment.
What are the advantages?
A single interface for all your CAD applications
A simple, consistent and intuitive tool
Standardized, efficient and secure management of complex environments
A flexible and easily customizable licensing system for user groups
A dynamic directory for user management
What benefits? 
Time savings due to fast license availability
Increased productivity through reduced error rates in CAD environments
Cost reduction for IT support with GoOffline function
Improved responsiveness for CAD tool update management through the use of standardized OEM environments
Greater legal certainty when using your licences thanks to quota allocation
Reduced risk of errors in CAD infrastructures through standardization