EPSYL-ALCEN
Energy

300 employees
KEONYS customer for the DYMOLA software since 2020.
Who is EPSYL-ALCEN?
EPSYL-ALCEN combines physics and computer science to develop digital twins of systems.

"EPSYL-ALCEN mobilizes "DIGITAL" technologies to solve physics issues. We provide unique expertise to modelling systems of our customers."
Thibault ARDHUIN, 4.0 Industry Leader, EPSYL-ALCEN
Why did EPSYL-ALCEN choose DYMOLA® software?
Challenges
Model complex multi-physical systems that combine mechanics, fluidics and thermics.
Define the best IT architecture according to performance, security, cost and maintainability constraints.
Solution
Dymola, a complete modelling tool, is used by the design office
Components from many engineering fields available
Flexibility to create specific modules
Interoperability with other software, FMI support
Benefits
Macro approach: simplified models to determine the technico-economic optimum of a system.
Complexity of each component adapted to the client's needs.
Encapsulable models for easier use.
Learn more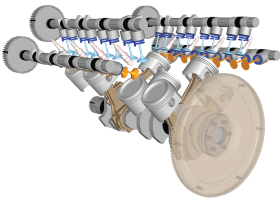 DYMOLA® Training