Reveal the full potential of your Dassault Systèmes' solutions and accelerate your transition to 3DEXPERIENCE® with the loyalty program.
Many offers have been developed by Dassault Systèmes to allow you discover all the capabilities of the tools you use on a daily basis. Through its Customer Transformation Program, Dassault Systèmes gives to customers* the opportunity to benefit from reduced-price offers to advanced features of the software they use. It is now possible to easily access all the power of the 3DEXPERIENCE® platform step by step.
Among the offers of the Customer Transformation Program: the CATIA Engineering Excellence offer allows CATIA V5 users to benefit from a large range of functionalities to improve designs and optimize collaborative work. Abaqus users can benefit from the Abaqus SMB offer, which makes it possible to carry out collaborative simulations in a simple and fast way.
Don't wait any longer, to get the best of Dassault Systèmes solutions !
*This offer is only available for customers with an annual maintenance contract with no extra cost. 
OFFERS
Reveal all the potential of your CATIA V5 license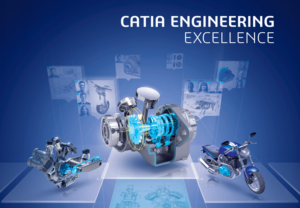 With the new CATIA Engineering Excellence offer, bring your design and engineering projects to life while reducing the associated risks. This offer enhances CATIA V5 with advanced roles and functionalities, which promote the excellence of your projects.
Choosing CATIA Engineering Excellence means choosing a tool that allows you to optimize your design practices and encourage multidisciplinary collaboration through:
The exchange of design data with your peers and clients in a collaborative engineering process using the STEP standard.
The design and simulation of your assemblies with KINEMATICS.
Surface design and plastic and metal parts with the additional role of SHEETMETAL.
Tolerancing and annotation of your 2D/3D parts and products with 3DMASTER.
Management of your multi-CAD project and data, electrical design, structural simulation, and other complementary advanced technologies available through the activation of the 3DEXPERIENCE® PLM Collaboration Services option included.
Achieve your ambitions by getting the best for your designs: As a CATIA V5 licensee, you can now enjoy these unique benefits thanks to your maintenance contract. 
Adopt the simulation offer that adapts to your needs
Abaqus offers you a collaborative and easy-to-use solution that allows you to share data and methodologies while preserving the consistency of information. It is now simple and quick to optimize your designs.
Recognized as one of the most powerful and complete simulation solutions on the market, the Abaqus Unified FEA product suite allows you to perform finite element simulations, regardless of your simulation expertise and field of expertise.
To support you in the adoption of Abaqus, Dassault Systèmes now offers you 3 offers with 3 levels of functionality to best meet your needs: 
Essentials: To get started with non-linear simulation.
Advanced: To accelerate your non-linear analyses with parallelization and access linear optimization and fatigue calculation.
Ultimate: To perform your non-linear analyses using HPC high-performance computing, perform non-linear optimizations and analyze the service life of your structures.
Improve your performance and gain market share with 3DEXPERIENCE®
Dassault Systèmes has developed a special offer for aeronautical subcontractors. Engineered to fly takes into account the different challenges of the subcontractor business: short lead times, high competitiveness, management of the relationship with OEMs, etc…
The Engineered to fly offer provides access to tools and processes within the 3DEXPERIENCE® platform, which includes:
Information management
Preparation and manufacture of machined parts
Definition and manufacture of composite parts
Sheetmetal sheet metal work
The tooling
Disciplinary systems engineering
The tools and processes to which the Engineered to fly offer gives access make it possible, among other things, to better control your production chain, to participate in more calls for tenders, to better manage the relationship with the principals…
With up to 30% error reduction and up to 40% productivity gain, the 3DEXPERIENCE® platform will allow you to face all the challenges of your business.