These methods are aimed at – and applicable to – any type of industry sector in order to optimize system and product developments.
KEONYS offers the best practices and procedures to develop and produce a complex system and keep it in operation.
OUR OFFERS
We help with design and cross-disciplinary processes within the company:
Specifications management

Interface analysis

Risk management

Respect of development milestones

Analysis and decision-making techniques
The application of these methods is, however, complex - due to product performance, the network of project actors, risk control, costs and time frames.
Every one of these aspects is a challenge that Keonys will help you to overcome.
STAKES
Our deployment process
Initial phase to meet with the teams concerned and understand your processes in order to target the aspects of systems engineering that may be of interest to you.

We provide numerous suggestions and assist you in your thought process

We will propose a configuration of our solutions that is adapted to your requirements, and will integrate your data by applying the processes defined
Finally, our team will help you to familiarize yourself with the tools and best practices.
BENEFITS
Supported and maintained by INCOSE (International Council of Systems Engineering). Several studies carried out by INCOSE have shown that 40% of lost projects are due to poor specifications management or a lack of traceability.
The deployment of our innovative collaborative solution makes it possible to improve traceability and, as a result, prevent the loss of information and also reduce discrepancies and iterations.
Creating a low-cost virtual prototype as early as possible in the process also allows for a better understanding of the system. Validation can also take place at a very early stage of the development cycle. Development cycles are reduced, and the quality of deliverables is improved.
SOLUTIONS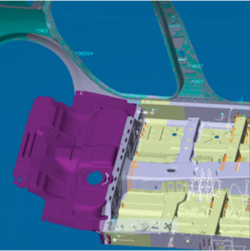 In order to facilitate and support our customers with their systems engineering integration, Keonys has set up a dedicated SEA (Systems Engineering and Analysis) team. Our aim is to simplify - and assist in the implementation of - these methods.
Our solutions position themselves on all or part of the V model cycle process:
Management of requirements

Validation of virtual prototypes

Change management

Collaboration and traceability
ASK FOR A
SPECIALIST'S AUDIT