OUR OFFERS
Keonys solutions to simulate product design
Keonys provides the following solutions for the deployment or integration of simulation within product design, using some of the Dassault Systèmes Analysis solutions:
Standard or tailored training

on all of the Dassault-Systèmes finite element simulation solutions mentioned above.

Technical analysis assignments

to help you build methodologies relating to finite element analysis in the CATIA geometric environment.

Implementation projects

to integrate the Dassault-Systèmes simulation solutions mentioned above into your design process.
STAKES
For significant, measurable gains
Keonys has acquired and developed a highly-specialized expertise in this field over numerous markets. Our SIMULIA consultants have become your true partners in the acceleration of your developments and the creation of innovative products.
When developing a new product, manufacturers seek to reduce its time-to-market, control its quality and comply with standards whilst also reducing costs. In addition, competitiveness requirements call for more diversity, innovation, adaptability, services, etc.
BENEFITS
The right product, first time round
In order to address these technical and economic issues, the implementation of thorough and effective product development methods is essential. As a result, the product must be "right" first time round so that it can be commercialized in a short period of time. This implies the previous study of several alternatives and the validation of technical choices during the elaboration phase.
In the same way as rapid prototyping, physical mock-ups, the management of technical data and computer-aided design, the 3D digital simulation of mechanical behavior is now an integral part of product design methods.
These analytical tools, which are based on finite element method (FEM) modelling, are upgradeable and interoperable. They are aimed at designers as well as specialists, and provide the company with powerful resources to design a product that must meet a set of technical, functional and economic requirements before it is even manufactured.
The results provided by these simulation applications enable:
Relevant decisions to be taken

The innovation dynamic, collaboration and capitalization of knowledge to be made easier
SOLUTIONS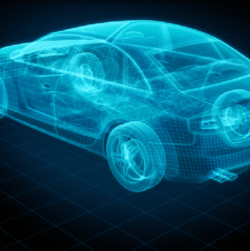 CATIA and SIMULIA integrated Analysis solutions
Dassault Systèmes CATIA and SIMULIA analysis products fit in perfectly and sustainably with this drive for progress. Integrating naturally into a PLM (product lifecycle management) environment, they enable a virtual approach to the real mechanical behavior of mechanical systems.
CATIA V5 Analysis

for linear static and modal analysis for a part or assembly. This solution includes standard and advanced meshing functionality

SIMULIA Analysis Extended

for basic non-linear static analysis, thermal analysis and thermo-mechanical analysis

SIMULIA Analysis for Experts

for non-linear static analysis, thermal analysis, thermo-mechanical analysis, explicit dynamic analysis, etc.
ASK FOR A
SPECIALIST'S AUDIT