What is 3DEXPERIENCE®?
The 3DEXPERIENCE is a unique collaborative platform that manages all product data in real time at every stage of development (design, simulation, manufacturing, planning and production scheduling), through to the physical product.

This PLM software is the perfect answer to the growing need for hyper-connectivity companies. This makes innovation possible around the human factor. The software allows the launch of unique products with high added value and offers an incomparable customer experience.

The solution offers a collaborative, interactive, multi-tool, multi-expertise, multi-site, project management-oriented approach.
All of the company's functions are brought together around a single, easy-to-use interface that enables the smooth real-time exchange of data from the company's various information systems (PLM, CAD, 3D, ERP, MES (Manufacturing Execution System)).
Benefits of the solution
Time saving in development and production cycles
Traceability management: all updated data is accessible in real time at each stage, from product design to execution
Risk management: thanks to simulation, the behavior of a product in a constantly changing environment can be predicted
Accelerated time to market
Centralization and security of your design and simulation data… with or without the cloud
Real-time updates allowing everyone to work at the same time and on different domains
Multi-site and multi-disciplinary collaboration between all the actors of a project and at different levels of intervention: co-design and design, product engineering, industrial process engineering, parts and materials purchasing, cost analysis and quality.
Project management and planning
The offers
3DEXPERIENCE® evaluation offer
Would you like to try the 3DEXPERIENCE platform? There is a 3-month evaluation offer at €354 with no commitment. You will be able to discover a unique platform on which you can design, simulate and manage your project from A to Z in full collaboration with your peers.
If you are already a CATIA V5 customer and would like to start using the 3DEXPERIENCE platform, we offer you the opportunity to benefit from the advantages of the platform for one year at a preferential rate. This way, you can manage your projects over time and decide if the 3DEXPERIENCE platform is right for you.
With the trial version, you will benefit from:
An infrastructure provided and included in the offer (calculation, memory network, storage).
Supervision and operation by Dassault Systèmes, including monitoring, licensing and upgrades.
24/7 access to DS Cloud support
Data recovery (data can be reused)
25GB of storage per user included (10 users per license)
Support and training (extra)
Go on the Cloud as do the largest industrial companies
As a start-up, you certainly have needs and challenges that are specific to your structure. This is why Dassault Systèmes has set up a 3DEXPERIENCE Cloud offer specifically for start-ups. You will be able to take advantage of CATIA, SIMULIA, ENOVIA and DELMIA solutions in the cloud at a very attractive price.
What does the offer consist of?
The 3DEXPERIENCE Cloud offer for start-ups is a 3-year support program. To support your needs, Dassault Systèmes solutions are adapted to each key stage of your product development. As such, you will have the choice between basic roles** (Entry level Cloud Roles) and advanced roles (Advanced Cloud Roles) corresponding to your current needs.
Being aware that start-ups may have a limited budget, you will have access to the Cloud Collaborative Business innovator for 474€* per year and per user. This progressive offer over three years aims to accompany the growth of your company and your projects so that you are ready to adopt the final platform like the largest companies.
*Subject to eligibility criteria.
**Subject to change: MES-OC, NBA-OC, DRD-OC, SRD-OC, XPP-OC, CSV-OC, WXD-OC, XFO-OC, XCD-OC +All the companionsrelated to the previous roles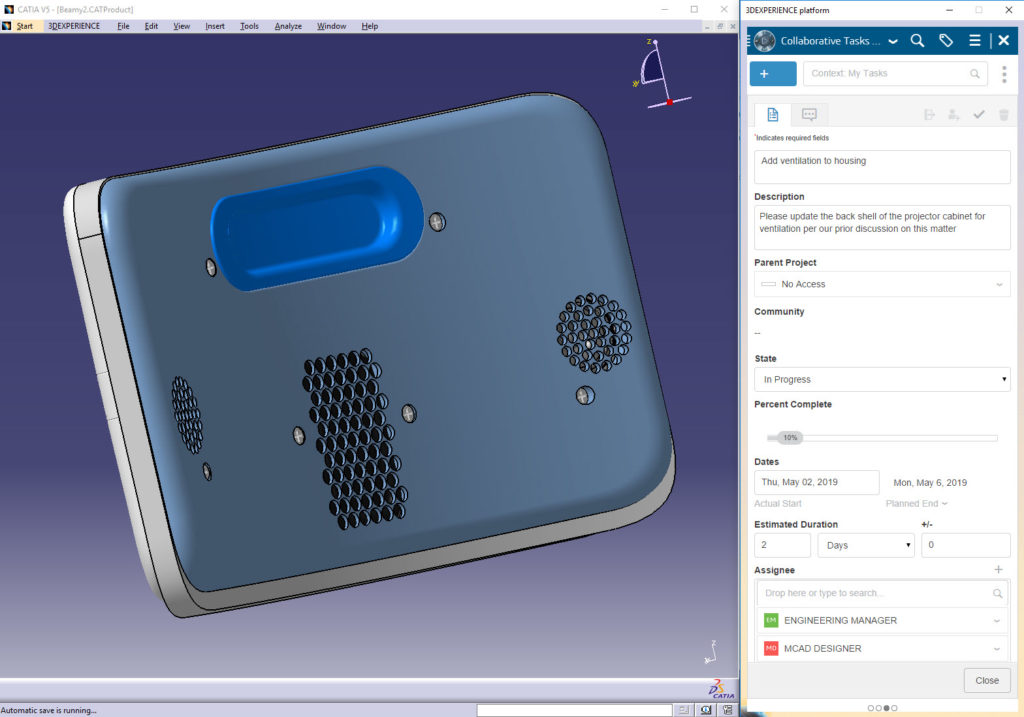 3DEXPERIENCE for start-ups: a new way to work collaboratively and in real time
The 3DEXPERIENCE platform increases your productivity and saves time through real-time collaboration and data management. Working on the cloud allows you to free yourself from geographic and time constraints.You will be able to evolve your work environment towards a single collaborative platform with different tools (CAD, Simulation, Manufacturing, Systems etc…).
You will be able to connect systems, data, people from all departments throughout the product lifecycle, in a virtual ecosystem to boost innovation and reduce operational silos.
Simulate, design, produce and optimize the real and the virtual while having your projects safely stored.
Move from CAD to PLM with Ready To Start!
How about a simple, fast and secure transition from CATIA V5 to 3DEXPERIENCE on the cloud? Ready To Start is a customized and all-inclusive deployment offer (from project follow-up, to deployment and training) allowing your engineering team to shift from CATIA V5 to the 3DEXPERIENCE platform in less than one month.
With Ready To Start, you will be able to manage your designs and related data and document but also to visualize and structure your projects.
Benefits of the Ready To Start offer
The offer is built around 4 milestones:
Prep meeting to define your project,
Alignment workshop to make sure the framework is in line with your business and adapt this framework if needed,
Setup of the platform to meet your business needs.Specific workshops will be organized ahead of the setup to identify your needs, implement and set up the platform
The deployment to users with customized training,
Want to learn more about the solution? Download the brochure below.
To go further, discover the Ready To
You have a digital transformation project?

There are several Ready to offer, ready to use, which can satisfy different needs,

such as managing versions and changes on several platforms with Ready to Orchestrate,
maintaining control and flexibility of portfolios with Ready to Configure,
CNC programming and simulation with Ready to Machine and much more!

 
3DEXPERIENCE for industries®
Additional software
CATIA 3DEXPERIENCE is a 3D modeling and engineering software that enables you to optimize design, to create intelligent and innovative products (product definition, design, product modeling and simulation of virtual products optimization and maintenance, design). The 3DEXPERIENCE will allows you to become more productive and efficient at creating your concepts, products and processes through an intuitive 3D experience.
The platform allows to create simulations for any type of object. SIMULIA aims to evaluate the reliability, performance and safety of materials and products. Simulating in 3D with the digital twin enables you to reduce physical prototypes, manage and test a wide variety of probabilities including simulation, strength analysis, structural calculations and real-time 3D simulations.
ENOVIA, combined with the 3DEXPERIENCE platform, enables the management of all data in a very efficient way (connection between users and collaborative applications). This solution aims to collaborate and innovate in complete security in order to design a flexible plan that is optimizable and compliant with regulations thanks to project management and classification.
DELMIA allows you to model, simulate and design the industrial operations and means of production of your factory by ensuring the feasibility of manufacturing and virtual construction plans.
SOLIDWORKS® is a 3D CAD software that enables you to design, create, simulate and manage your data and projects. Thanks to the complementarity of many features such as photographic quality design, 2D and 3D modeling, motion and stress analysis, this robust solution will allow you to improve productivity and reduce manufacturing costs.
The 3DEXPERIENCE platform combined with SOLIDWOKRS® is suitable for all types of companies, from small to medium-sized businesses (self-employed, very small companies, etc.). The 3DEXPERIENCE WORKS is a unique platform that offers companies a transparent and collaborative work environment in the cloud. The solution allows for data uniqueness, traceability, secure data access, cost reduction and much more!