KEONYS offers a range of solutions, services, software, and offers adapted to your problems that will allow you to optimize the processing of goods and set up after-sales profitable.
OUR OFFERS
We also assist you in innovative domains such as the augmented reality (AR) for the production:
Guiding process simulation and control means

Guidance and supervision

of

manual

assembly operations

Automated check to

verify the

assembly

line
Our experts will advise you in your price optimization strategies of cost of parts and assemblies:
Design to cost

Make or buy analysis


Négotiation with suppliers
STAKES
From engineering processes to the monitoring of real-time production, our teams of experts help you to meet your challenges in the areas of cost simulation, manufacturing, implementation and the operational intelligence:
Resources: simulation, preparation, planning and management of resources

Quality: collection and use of quality data
Supply chain: simulation, planning and flow monitoring within and outside the production site

Production planning: simulation and optimization of a new line or line changing

Production: burden sharing and real-time monitoring

The execution of the production: making and task progress
BENEFITS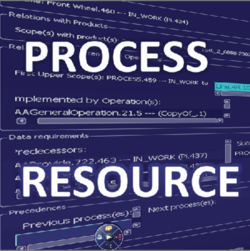 Quickness of process product design

Support for

the entire production

process

for engineers

of all disciplines

, suppliers and

other stakeholders




Improving the efficiency

of the production process

better control

of ageing-related

cost

increases by reducing the errors detected during the simulation
An internet connection reserved for users to create and collaboration related to the planning of the manufacturing process

Improved productivity and security for workers through simulation of movement

Manufacturing processes and production dedicated ready, accelerating product launch
SOLUTIONS
Our teams use powerful software and tested to meet your challenges:
DELMIA allows you to model and design the means of production in your plant. Imagine unlimited planning, management and optimization of your manufacturing systems while keeping their hands on your budget.
DELMIA APRISO supports global industrial operations, the software will give you a real-time visibility into manufacturing operations in order to better control your project.
APRIORI help you reduce the cost of manufacture of your products, accelerate innovation and quality with this solution for decision support
ASK FOR A
SPECIALIST'S AUDIT