In a difficult economic climate where environmental issues are crucial, energy sector companies must optimize their product assets.
This applies to the entire value chain: prospecting (in Europe, there is a lack of land for new sites), infrastructure engineering and construction, site operation and maintenance, and also waste processing and the decommissioning of equipment.
OUR OFFERS
KEONYS has developed special relationships with many customers and partners in the energy sector. Our technical consultants take part in large-scale international PLM implementation projects.
KEONYS provides companies with solutions around Dassault Systèmes' 3DEXPERIENCE platform :


Optimized Engineering: create document visibility for all stakeholders with a single source of truth
Monitoring engineering deliveries into comprehensive data storage

Monitoring validation with integrated assurance quality

Ready to use project database for all downstream processes
Optimized Project: manage information and decision making for improved deliverables-based execution
Optimize the project schedule across the project lifecycle

Manage project activity in real-time

Leverage corporate knowledge and experience
Our consultants are experts in business practices and will provide you with the following consulting or operational services:
Assessment of your information system and definition of a PLM roadmap and an implementation strategy.
Implementation and adoption of your PLM information system through the integration of high-performance software and configured modules in order to address industrial challenges.
Implementation of methodologies and good practices according to your industry sector, your business operations and your PLM projects.
Post-deployment support and skills development via our technical support center and our training center.
STAKES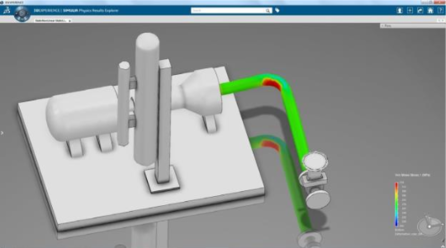 The challenges lie not only in the emergence of new infrastructures, but also in the renovation of ageing power plants or factories to make them more efficient, safer and more profitable.
The link between engineering and construction on the one hand, and operation and maintenance on the other, is becoming critical and requires collaboration between the major manufacturers in a context where political, economic, geological and technical issues are giving rise to increasingly drastic regulations.
BENEFITS
Improve NPV (Net Present Value) budgetary and financial projections.
Optimize design, construction and maintainability costs.
Respect deadlines for the implementation of new sites and reduce the downtime of certain resources during renovation.
Control industrial risks and compliance with standards.
Improve the overall quality of the facilities and product assets so that they are easier to use throughout their operational phase (> 30 years).

Reduction of the operating costs

of the facilities.
SOLUTIONS
Thanks to its expertise in the energy sector, the success of its transformation projects with manufacturers and to its partnerships, KEONYS can help you with the deployment of PLM solutions that will enable you to:
Control the management of increasingly complex projects, involving partners, subcontractors, systems suppliers, equipment manufacturers and inspectors
Have critical functional and geometric interfaces between work packages and optimize data exchanges
Benefit from a platform built around the production tool assets to be implemented and their operation throughout the project lifecycle. This platform favors an industrial approach to the standardization of the processes that need to be equipped with tools and the technical infrastructures to be deployed for this purpose
Manage BOMs, digital mock-ups and the program's progress
Monitor costs by anticipating construction or renovation processes

Define integrated 3D business systems for piping, HVAC and electricity processes and also equipment and structural systems

Operate innovative Reverse Engineering procedures (based on scanners and reconstruction tools) to enable the review and renovation of old installations

Implement the latest simulation techniques in order to predict the installation's behavior (fatigue, heat, distortion of large structures, vibrations or damaged caused by corrosion)
ASK FOR A
SPECIALIST'S AUDIT