The industrial equipment industry meet customer requirements in terms of quality, equipment adaptability and lead times.
It comprises several segments:
Special machines

Complex tools

Worksite machines

Installed equipment

Metal products.
The design and manufacturing processes for these products are complex and involve various different professional disciplines.
Product variations are increasing, and as a result it is more and more difficult to manage engineering activities.
OUR OFFERS
KEONYS has developed special relationships with many customers and partners in the industrial equipment sector. Our technical consultants take part in large-scale international PLM implementation projects. They are experts in business practices and will provide you with the following consulting or operational services:
Assessment of your information system and definition of a PLM roadmap and an implementation strategy
Implementation and adoption of your PLM information system through the integration of high-performance software and configured modules in order to address industrial challenges
Implementation of methodologies and good practices according to your industry sector, your business operations and your PLM projects.
Post-deployment support and skills development via our technical support center and our training center
STAKES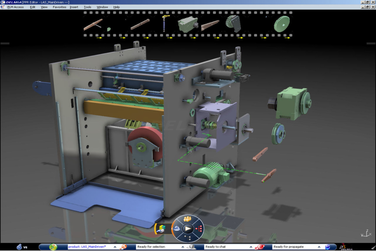 The challenges fall into five main areas:
Responding to calls for tender (i.e. RFP/RFQ): whether the company is more "build-to-order" or "engineering-to-order" inclined, actual costs need to be determined, by identifying risks and taking into account all of the projects and products that have already been completed. This guarantees an optimization of their competitiveness and an improvement in reactivity and also accuracy, through the implementation of a standardized, repeatable process that is understood by all
Pluridisciplinary development: product ranges change very quickly, derived solutions are increasing and the systems to be integrated are increasingly complex. The sector's companies must focus on the integration of multiple disciplines, such as mechanics, routed systems, electronics and software. This begins at the systems engineering stage, and impacts the entire cycle right up to the production plant, especially if the development process is punctuated with a large number of modifications
Industrial collaboration: market globalization leads to new types of collaboration and "coopetition" between the sector's companies. The nature of subcontracting is changing, and value chains are becoming more complicated. Traditional collaboration methods based on loosely-structured data exchanges are insufficient. Development platforms allowing partners to collaborate throughout the product's design, manufacturing and maintenance cycle - whilst protecting certain sensitive data and intellectual property - must be put in place.
Regulatory compliance: complying with the requirements of regional standards affecting different aspects of the equipment to be produced and maintained. The resulting traceability requirements require new organizational structures and procedures in order to ensure product compliance
After-sales: it is essential to define, as early as possible, the maintenance services to be provided to customers, capitalize on the procedures and master the configuration of the equipment installed on the customers' premises
BENEFITS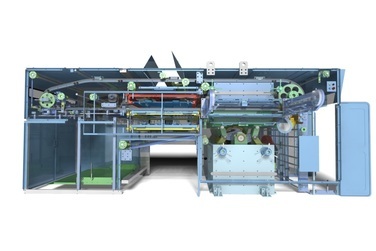 Have a product development platform that facilitates simultaneous work and collaboration between the various actors in the development process.
Design and analyze multidisciplinary 3D data, from structure to fluid circuits, in a single digital mock-up in order to ensure a "right first time" definition
Begin the design very early on in the development cycle so as to anticipate and control manufacturing costs
Enable the project leader to provide a progress report on the design and behavior of the product to all internal actors, clients and subcontractors throughout the development process

Ensure specification compliance

Maximize the re-use of components and design elements and standardize development practices in order to improve productivity/quality

Control

impacts between several batches of work assigned to different businesses or subcontractors.
SOLUTIONS
PLM solutions increase the innovative capacity of the new industrial equipment and services that can be offered relative to these new products.
They are also an asset in terms of cost reduction and the quality and productivity of industrial facilities.
Pluridisciplinary engineering: run the projects relating to the various business disciplines concurrently as far as is possible, in order to determine the functional and geometric integrity of the entire product package and to manage collaboration with the organizations on methods and manufacturing based on large BOMs and 3D
Manufacturing simulation: enable the sequencing and simulation of the assembly process even though the product definition has not been finalized. The DELMIA and 3DVIA solutions that we distribute and implement enable the production of product range instruction documentation from the 3D mock-up. These solutions allow for decisions impacting on production to be validated before any physical implementation costs are incurred
Interactive technical documentation: these are flexible solutions to provide easy-to-understand 3D documentation and to present your future products in 3D to customers, prospective clients or globally to the market. 3DVIA is a range of products specifically designed for these practices. They operate in multi-CAD environments with the best-known formats on the market, and can be integrated into all your document or web formats
Complex systems engineering: we offer to implement practices to trace your systems engineering - from customer requirements to the functions to be developed, and the logical blocks to be defined to physical products to be built. They will provide you with an expertise in V cycles and a real ability to manage the impacts of modifications made following any requirements expressed. Combined with product compliance management solutions, they are a guarantee of the durability and flexibility of development processes
Collaborative management of product data and intellectual capital: our solution is a single global collaboration platform for the management of all of the assets created by companies during the entire lifecycle of their products. This platform includes a modern, upgradeable centralized infrastructure, with the appropriate level of control, traceability and monitoring
ASK FOR A
SPECIALIST'S AUDIT