We are passionately committed to helping you embrace change within your company in order to build performance.
Together we can take on the challenges faced by your company!
CONTACT OUR EXPERTS
mail
communication.keonys@keonys.com
VISION
Our innovation supporting your productivity
If you want to bring better products and services to market, then Keonys is here to help you!

You will benefit from our experience supporting the implementation of product lifecycle management projects and our expertise in the key industry sectors. For over 20 years, we have been assisting our customers with the preparation and optimization of their engineering processes and improving their collaborative methods so that they can develop new experiences with their own customers.
Our strength?
The most comprehensive and accessible PLM solution available on the market.

Our approach?
A collaborative approach to better fulfill both your current and future needs.

Our greatest asset?
Teams of motivated experts dedicated to the success of your projects.

We are passionately committed to helping you embrace change within your company in order to build performance. Our core values enable us to achieve our main objective: increasing your profitability.

Whether your concerns are industrial or commercial, we can provide the best solution to meet your requirements.
Together we can take on the challenges faced by your company.

We look forward to working with you very soon.

Isabelle Yung-Lafargue
President
MISSION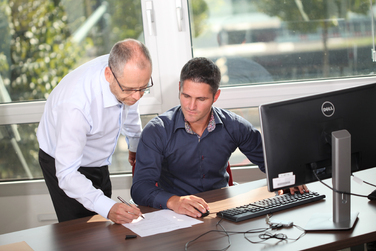 Your reference partner in PLM and 3D solutions
For more than 25 years, KEONYS has been a preferred PLM (Product Lifecycle Management) and 3D solutions partner to customers of all sizes and in all industries, helping them develop and manufacture better products and innovative services faster.

As a major player in innovation and productivity, KEONYS provides value-added business consulting services, PLM project implementation and integration, training and support to its 1,500 customers in France, Belgium, Luxemburg, Netherlands, Germany and Switzerland.
Europe's foremost integrator and distributor of PLM solutions from Dassault Systèmes, KEONYS had, in the year 2016, a turnover of 56.2 million euros.
In 2017, KEONYS joins CENIT to become Dassault Systèmes' first world partner and integrate Group's PLM division for a cumulative turnover of 120 million euros. KEONYS is particularly recognized for its expertise in engineering, digital simulation and robotics, while CENIT has established itself in the areas of production and the connected factory.
The consolidated Group has more than 800 employees and 27 agencies located in eight countries. The Group supports companies with the deployment of Product Lifecycle Management (PLM) and Enterprise Information Management (EIM) solutions.
ASK FOR A
SPECIALIST'S AUDIT
mail
communication.keonys@keonys.com
VALUES
Values we are committed to
Because we want to create a real partnership with our customers, we share with them the values that drive our company.
They are the very essence of Keonys and govern the way we act, both in-house and externally.
Our customers are best-placed to tell you more about this...
Embrace change: Constantly seek new and effective methods to add value for our customers
"We were looking for a solution to enable us to manage, in a very dynamic way, the development of on-board software and its integration within our processes. Keonys provided us with that solution and carried out its implementation". Sylvain Yon, VP Research & Development, Theraclion
Build performance: Find lasting solutions so that together we can build a flexible group that creates value
"Our collaboration enabled us to computerize a working method that had developed over more than 10 years, dematerialize our files and make savings of around 50% in expert hours". Vincent Lefeuvre, Expert and project leader, OPPIDATA
Passionate commitment: Show total commitment above and beyond implementation
"Together with our engineering school, Keonys co-designed a new specialized Master's to train the engineers of tomorrow to the highest level". Philippe Véron, professor, Arts et Métiers ParisTech
Connect talents: Identify and link up skills in order to develop individual and collective knowledge
"This new technology means that our collaboration is much more productive, not only between our multidisciplinary R&D teams, but also with our two production sites". Christophe Fleury, Director of Research and Development, Shark
Respect individuals: Act towards others as I would like them to act towards me: adaptability, relevance, reliability...
"The Link&Go project created a real osmosis between the AKKA Technologies teams and Keonys, enabling this innovative project to be carried out respecting the project milestones". Philippe Obry, Executive Vice President, Chief Innovation Officer, President of Akka Research, AKKA Technologies
Get a quotation
mail
communication.keonys@keonys.com